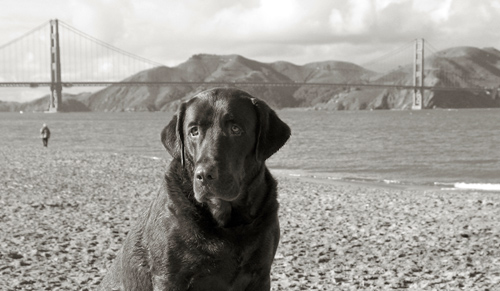 We had to say goodbye to Booker this morning. He was 13 1/2 years old. We called him the Gold Standard of Dogs.
He was with us when we got married, saw us have 3 children, and helped us when we lost Ava to cancer. He helped our cat Cairo pick fights, but not finish them. He partnered with his brother Hoot for everything: walks, tug-of-wars, begging shenanigans. He especially loved his papa, Chief.
Booker was a country dog living in the city. He patrolled sidewalks, and fetched the paper. He politely declined the endeavors of strangers. We taught him fun tricks: G.I. Joe, Bang bang, and The cookie on the nose. Our friends teased us when we brought him with us everywhere: work, the beach, the lacrosse field, AT&T park, dinner parties, road trips. When he got older, he took himself for walks in Golden Gate Park. (yeah, not our favorite, and how on Earth he crossed Oak street we'll never know.) He swam and fetched like he was born to it. He loved it. He even swam in the Eel river with us less than two weeks ago. I loved swimming next to him, and racing him for the stick.
Booker was the best dog, ever.
We joked that this was a good thing, because I might get rid of him if he were any less. The truth is I loved him, Everyone loved him, and we always will.
No one lives forever, and I am going to focus on what a gift his long life was.