A typical San Francisco day.. sunny but kinda windy.
We went to Childrens Playground with some friends (Trevor, Will & Ben).
Lucy was in heaven – I know I need to take her to more playgrounds, more often.
Then we walked over to Stanyan to check out the food trucks that sort of 'circle the wagons' every Thursday evening. They have been growing in popularity, and I have been meaning to go check out this event (officially, Off The Grind: Upper Haight). Here's a good blog article with pictures if you want more description.
The wind died down and it wasn't crowded at all. It smelled fantastic. I have bought food at food trucks before, but the interesting thing here is how many trucks there are (11? at least.), and that they are all different and all good! None as cheap as a food truck should be, but at least it's yummy. Jen, Shelly and I were in agreement, it's not so ideal for picky eating kids. Oscar had a cheese quesidilla that I could have made him at home for cents. Whatever. It was fun for the moms. (Korean BBQ… mmmm. and pulled pork sandwich for Mark with hush puppies…)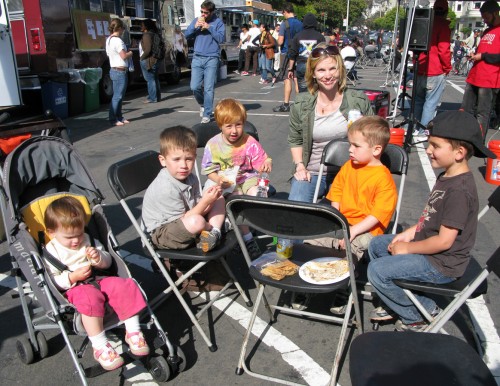 (Click photo to enlarge)