Park Branch Library at 1833 Page St. has re-opened, and we went to check it out. The 101-year-old library, which first opened its doors in 1909, was fully renovated: the large neo-classical Reading Room has been restored, and the Community Meeting Room on the ground floor is nice new space. We spontaneously decided to walk down for the festivities, and it was certainly a fun family thing to do.
(Click any of these to see larger, arrow key will advance.)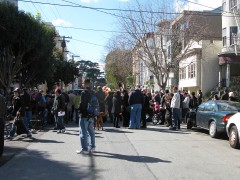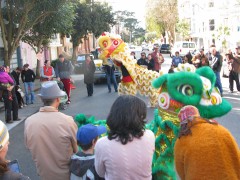 The Scene outside was classic Haight ambiance. This is one block from Madie's old apartment.
On a normal day it's easy to drive by and miss seeing the building, but not today! I hope to combine future library trips with the new Whole Foods around the corner.
Upstairs is the main reading room and book checkout. Downstairs is the community room where they had Acro Sports people performing to music.
Oscar checked out two books and a movie. I explained how he needs to return them in two weeks. (one week for the movie). The good news is kids don't have late fees!