Its done! Amanda has done a terrific job. We'll be auctioning this beauty off to raise money for Clarendon. If you want to take the quilt home it might cost you – but you won't know, unless you come to the Clarendon Auction this Saturday night! And if you'd like a last minute raffle ticket – let me know!
Here's the way the kids contributed to their quilt:
We started by asking them to draw a tree. Amanda, our art teacher Ellen, and I all agreed that 'nature' might be a good theme for the quilt. Beyond the tree, the kids were invited to add other fun natural elements.
The line drawings were done in pencil, on canvas that I taped to cardboard at the suggestion of Ellen. That was genius because then the kids had a flat surface that was easy to work with. Then Amanda and I traced the drawings in Sharpie.
In Room 5's art class, Ellen provided us with some terrific fabric crayons that the kids used to color in their drawings. We limited their color palate in the name area, to attempt a more cohesive look, but also to give them a parameter they had to work within.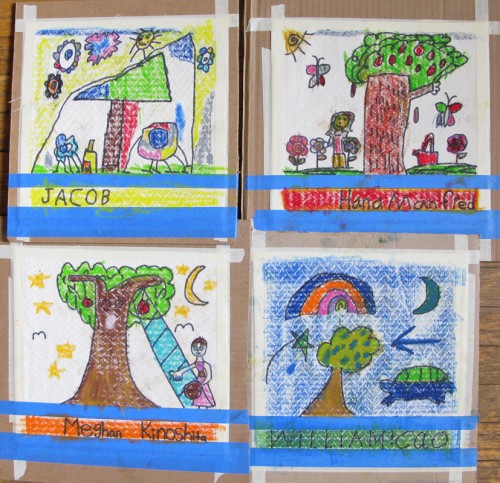 (click to see larger)
After this step, I removed all the tape and ironed the squares so that the heat would lock the color in to the fabric.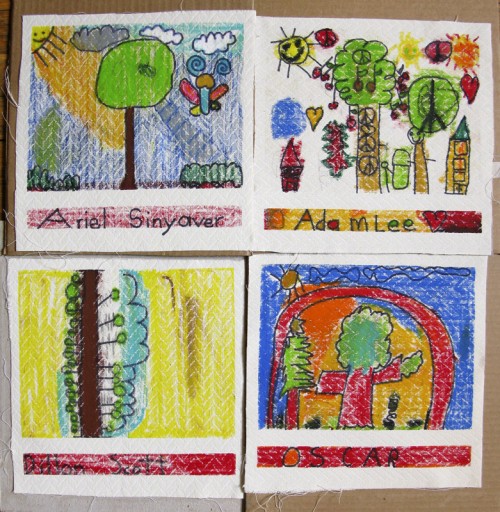 (click to see larger)
Finally, Amanda took home all of the squares (22!) and began sewing the quilt. She sourced the fabric, cut, battened and sewed it all together. I've made a quilt before, with the help of my mom, and let me tell you it is not easy! I think she rocked it: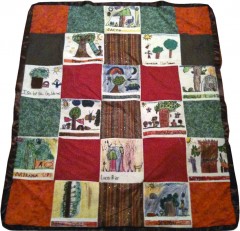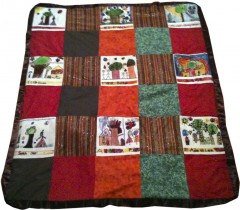 (front and back)
So come to the auction and bid on this baby!
What a wonderful keepsake of the kid's first year of school.