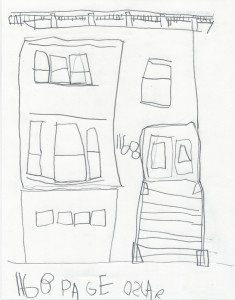 (click to enlarge)
By Oscar, Age 5
The homework assignment is to learn your address, and draw your house, numbers included.
I definitely helped him (!) But the drawing is 100% his own. I showed him where to put lines, but I never touched the pencil! We used a picture of the house that Mark pulled up on his iPhone.
We've been seeing so much more willingness to draw since Kindergarten started (a huge relief to me!). After I scanned the picture, he colored it and let's just say it lost a bit of it's genius. But I had a feeling it would – that's why I scanned it first! ha.