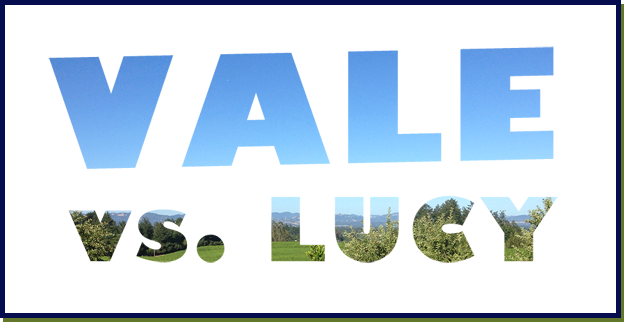 Who will win?! Tune in on Halloween and find out!
It's not much, but since I remember it, I'll write it down.
Lucy wants to be the Princess Rapunzel for Halloween. Of this she has been consistently certain, for months now. Unfortunately she's not inspired, or even aware of, the original story by the Brothers Grimm. Lucy likes the Disney version, and has seen the movie Tangled, at least three times now. Also, Aunt Kiera gave her some costumes as a Christmas gift, and one of them is the slinky, gold-trimmed, purple and lavender Disney Rapunzel gown. Therefore, even though it would not be (in my opinion) new or exciting, to wear this for Halloween, she's at least able to do it under her own power. And she knows it.
So that's the back story. Why we are talking about Halloween costumes in June, is no more odd than the many, many year-round conversations in which my kids plan their birthday parties. I think, like me, they love to look forward to things. Our most recent chat about her costume choice was on Saturday afternoon, under some shady pine trees in Sebastopol. At first I had the hammock all to myself -which we brought with us for the day. I took a video on Instagram, you can see it here if you don't already follow me.
A little later Lucy climbed in, and struggled to find a comfy and balanced spot. At last she settled down (settled down for a 3 year old doesn't really compare to a grown up version, but beggars can't be choosers). "Mom?"
–I'm right there, in the hammock, and there is no one else. —
Me: "Yes?"
Lucy: "I want to be Rapunzel for Halloween."
Me: Hmmmm.
Lucy: I think a long lellow hair on my head too.
Me: I like that part. Maybe you could make up your own Princess.
Lucy: No I like Rapunzel.
Me: Well she's not my favorite.
Lucy: Well She's my favorite!
Me: silent
Lucy: You don't like purple. Purple is my favorite color. Rapunzel is a Purple Princess.
Me: I think you should think what else you could be for Halloween. (Fightin words.)
Lucy: I'm going to be A Purple PRINCESS of Rapunzel.
Me (losing my cool): I don't like purple princesses! You can't make me like her!
Lucy: Fine! You Can't Make Me Don't Like Her!
And I honestly do not know what I was going to say next, but Heaven sent us Oscar with a message that Dinner would be ready soon, and we both were requested to go inside and wash up.
Any words of wisdom on this one will be received with much gratitude.
xoxo