Sunday Opi celebrated his 80th birthday. Happy Birthday!
It was wonderful to spend time with family and friends.
Having cousins Ciara and Fiona in town was especially AWESOME.
We enjoyed a beautiful lunch at L'Olivier restaurant, which was open just for us!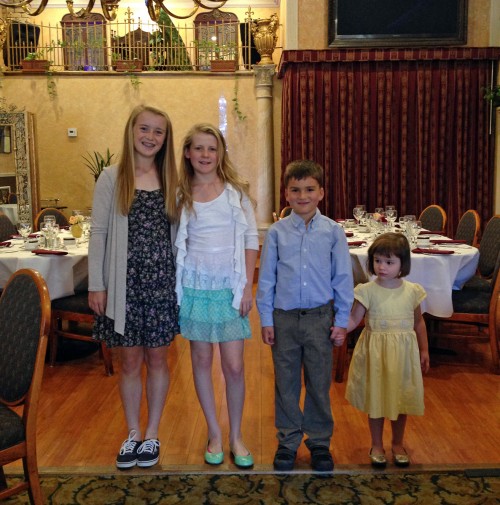 I made a couple of small efforts with the birthday gathering in mind. Bob doesn't like a big fuss, and he specifically asked for no gifts, books, slideshows, prints or albums!
No fair!
Still, I had to try.
Candied Meyer Lemons (from Bob's Tree!)
Bob has always grown beautiful meyer lemons in the backyard. I think it must be the combination of the gardener and the bartender in him!
I picked a bag full of lemons one night last week, and when I saw them on my counter then next morning, I knew what I wanted to do. You can "candy" any citrus fruit. Now that I've done it, I realize it's not difficult, and I'm sure I'll try some other fruit soon.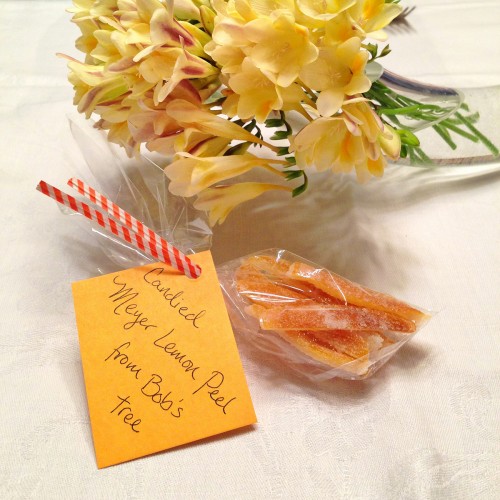 Lucy helped me with the sugar part. I ended up cutting these guys in half lengthwise again, in order to have more to package up. Also they were pretty strong, so smaller bites was better.
Here's what I did:
Quarter the lemons and remove the fruit. Put the peels in a pot, cover with cold water and bring to a boil. Strain and repeat two more times! This removes the bitterness. I had two pots going due to so many peels. Make simple syrup (1 part each water and sugar) and simmer the peels for an hour and a half. Strain and dry on a rack for 24 hours. Toss the now very sticky peels in sugar. (This is when I cut them in skinnier strips, and tossed them again.) Dry on a new rack for one more day. Package and tag.
I wish I had counted how many lemons I started with. Meyers are smaller, and I think it was around 12 or 14? I know I ended up with 17 little bags containing about an ounce each. And I barely remembered to get a photo of the finished product! The bag shown is missing a couple of pieces! (shh!) We put them out as 'favors' at a big family dinner the night before the birthday. I was happy when I saw folks eating them, smiling, and trying to accidentally take home each others' bag.
The View Master
I got this idea from Pinterest! The link to the company is here.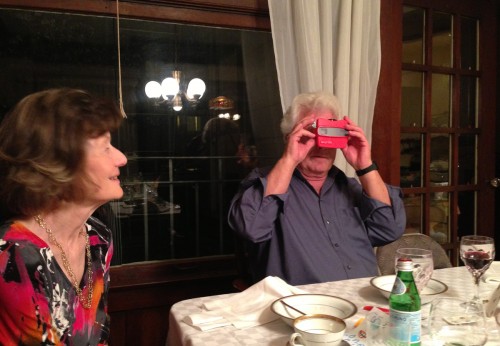 This was So Fun! I can't wait to do more reels. It was nice to pass the viewers around the table, and with only 7 photos each, the viewing was short and sweet.
Reel One:

Reel Two:

Here are a couple more cute phone pics from the lunch. Omi, what a great weekend you hosted! Happy Birthday Bob! XOXO