We moved a couple things around in Oscar's room. And I'm so happy we did! Most notably we moved the giant corner cabinet out. Out the window to be precise. I wish I took a photo of that, but I was too busy trying not to drop it on Mark's head. Oh, hold on, Mark has a shot from his phone: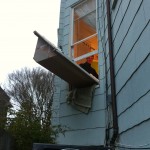 Now the writing desk is out of the way, and the whole room feels right again. Hooray!
(It's still 'over-full', but at least now you can get around.)
See all the space?!
The desk is now here in the corner when you walk in. I like that you can finally see the green wall touching the blue wall. It's what we covered up all this time with the bookcase (5+ years).
My childhood bed. Isn't it pretty? Don't you just want to take a nap in the afternoon sun?