This photo should speak for itself.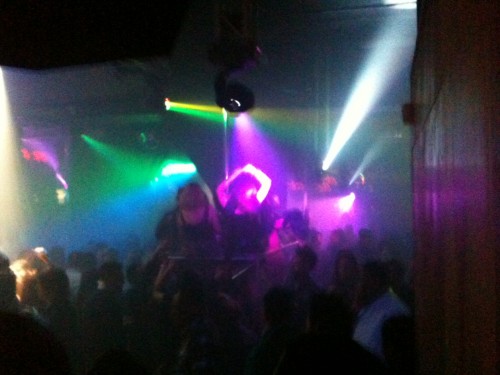 ***
Thank you Erin and all the Awesome DOLLS for the ridiculous humor, friendship and adventure. So Refreshing.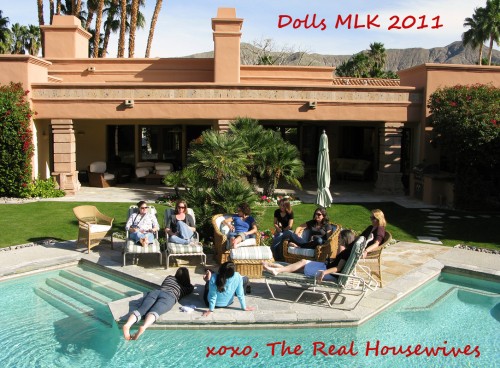 UPDATE:
-From Nanu:
> by the way: it's either Mommy's on vacation. or Mommies on vacation.
Funny.
Yes I had been mulling that.
I couldn't decide which I wanted it to say, so I left it bad, sort of on purpose.
Also, I've been told by a few people that The photo DOES NOT speak for itself. Which I also concede.
hmmm. What to do about my post?
I can speak for the photo. It was a cheesy little club in the middle of a strip mall (which coincidentally, also had the thrift store where some costumes had been purchased earlier that day). We ended up at Zeldaz by a minor miracle, as 9 out of 11 Dolls biked, in crap stilettos and full slutty-housewife attire, about 5 miles in the desert darkness. There were falls, but mostly because someone planted palm trees in the middle of the sidewalk. In true cherry-picker form, I took a cab. Here's a screen shot of a map of our journey: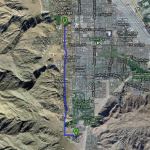 I wouldn't in a million years have predicted that I would have been dancing, in a wig, on a platform (with a pole!) next to lots of little hot girls in hot pants, and Loving it! The chicks were looking at me with the funniest wide-eyed expressions – kinda like, WTF is she? But I had strength in numbers. The guys at the door genuinely liked us. So did the cabbies, the valet guy and the security guards at Bella Monte. How could you not? We were ridiculous, but awesome. Seeing Courtney climb over the rails like the days of old just warmed my heart. While it might very well be the last time I ever do that, I'm honestly able to say you never know! Davis Old Ladies Lacrosse has never been younger at heart!